RIEP Forum is an opportunity for connection and collaboration to support the social, environmental and economic health of BC's rural island communities.
Join 100+ fellow rural island movers, shakers & innovators on Gabriola Island, April 25-27th to Connect + Reflect + ACT!
Be part of co-creating healthy and resilient island and coastal communities. Bring your voice and energy to one of the most picturesque and 'unplugged' retreat settings in BC!
Early Bird Rates End On April 7th!
Connect + Reflect + ACT!
The 2023 Forum program consists of the following:
Keynote & Plenary Panels on Indigenous Business & Reconciliation, Climate Change, Housing Lessons Learned, and Rural Island Values

Interactive Panels, Sector Showcases & Action Labs — on topics from Food Resilience, Sea Farming and the Circular Economy, to Alternative Transportation, Regenerative Tourism and Social Enterprise

Live music, social events, and other 'unconference' activities
Island-Based Businesses:
Freelancers, work-from-home consultants, start-up founders & solopreneurs

Small business & tourism owner-operators

Artists and cultural creators

Food, beverage, and other artisan producers
Community Stakeholders & Island Allies:
From island ecdev orgs, chambers of commerce, non-profits & other NGOs

Indigenous Community leaders

Island government representatives

Provincial and federal government staff
About the 2023 Forum
All meals are provided as part of your Forum registration, including options for a wide range of dietary preferences.
If you can…leave your car at home…transfers between the Gabriola ferry terminal, The Haven and select accommodations will be provided.
Your Forum registration does not include travel to or accommodations on Gabriola Island — see next sections for information.
Sponsor The Forum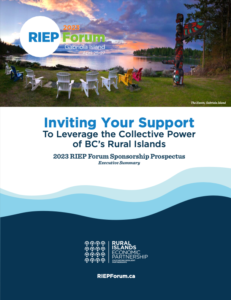 Opportunities remain to sponsor the 2023 Forum, at levels ranging from $350-$5,000.
Contact The Forum Info Hub
Email our Forum Info Hub for help registering for the 2023 Forum, or for questions about the RIEP Forum Volunteer Planning Committee.
Accommodations
Shared & Private Options
Our host The Haven can accommodate about half of Forum participants in shared and private rooms (single, double, triple, quad).
Follow these two steps to book your Gabriola accommodations:
Traveling to Gabriola & The Haven
Transportation Highlights:
20-min sailing time from Nanaimo Harbour to Gabriola Island ferry terminal
Morning sailings to Gabriola from Nanaimo Harbour: 9:20, 9:55, 10:30, 11:05, 11:40
Driving distance to Nanaimo Harbour from: Departure Bay (8 mins), Duke Point (15 mins), Swartz Bay (1 hr 45 m)
See BC Ferries sailing schedules for more!
We will be providing a shuttle service between the Gabriola ferry terminal and The Haven on April 25th, and to and from select accommodations—leave the car at home!
Visit our Transportation page for more information about inter-island and on-island transportation.

Plenary Sessions
Expert-led presentations with facilitated discussion on key issues, needs, directions and opportunities related to the socio-economic well-being of the islands and the coast.

Interactive Panels
Moderated discussions featuring panelists with particular knowledge of and/or expertise related to a timely topic or theme.

Action Labs
'Idea exchange' working sessions on topics flowing from the panels with participants proposing recommendations for transformative action.

Showcases
Opportunities to learn about programs, services, success stories that benefit the rural islands and coastal communities.
Sector Roundtables
Facilitated conversations with members of key economic sectors - the arts, tourism, health & wellness, food and beverage producers to connect and share common needs and challenges.

Coffee Cafes / Energy Breaks / Chats & Snacks
Informal, participant-driven opportunities for networking on topics and themes flowing out of Forum programs.