2022 Forum Home  |  2022 Forum Facilitators  |  Top 5 Reasons to Attend 
This event is now over.
RIEP celebrates a successful 2022 Forum - a hearty thanks to all who attended!
We deepened connections across the Rural Islands - from Bowen, Cortes and Gabriola, to Quadra, Cormorant and Pender, to Mayne, Denman, Salt Spring, and more - what a blast!
The sense of momentum and connection is palpable!
The Forum may be over, but the opportunity remains to become part of this unique inter-island network… Whether you attended the Forum or not!
Learn about the benefits of Rural Islands Economic Partnership membership: Become a Member
To complete the Forum evaluation, please visit: Evaluation Form
For more info about Doughnut Economics: www.doughnuteconomics.org
Ben Geselbracht "Doughnut Economics" Slide deck: Nanaimo City Doughnut
Spotify Playlist: RIEP Forum 2022 Spotify Playlist
Stay tuned for Forum recap to come -
and please mark your calendars now for the below upcoming events!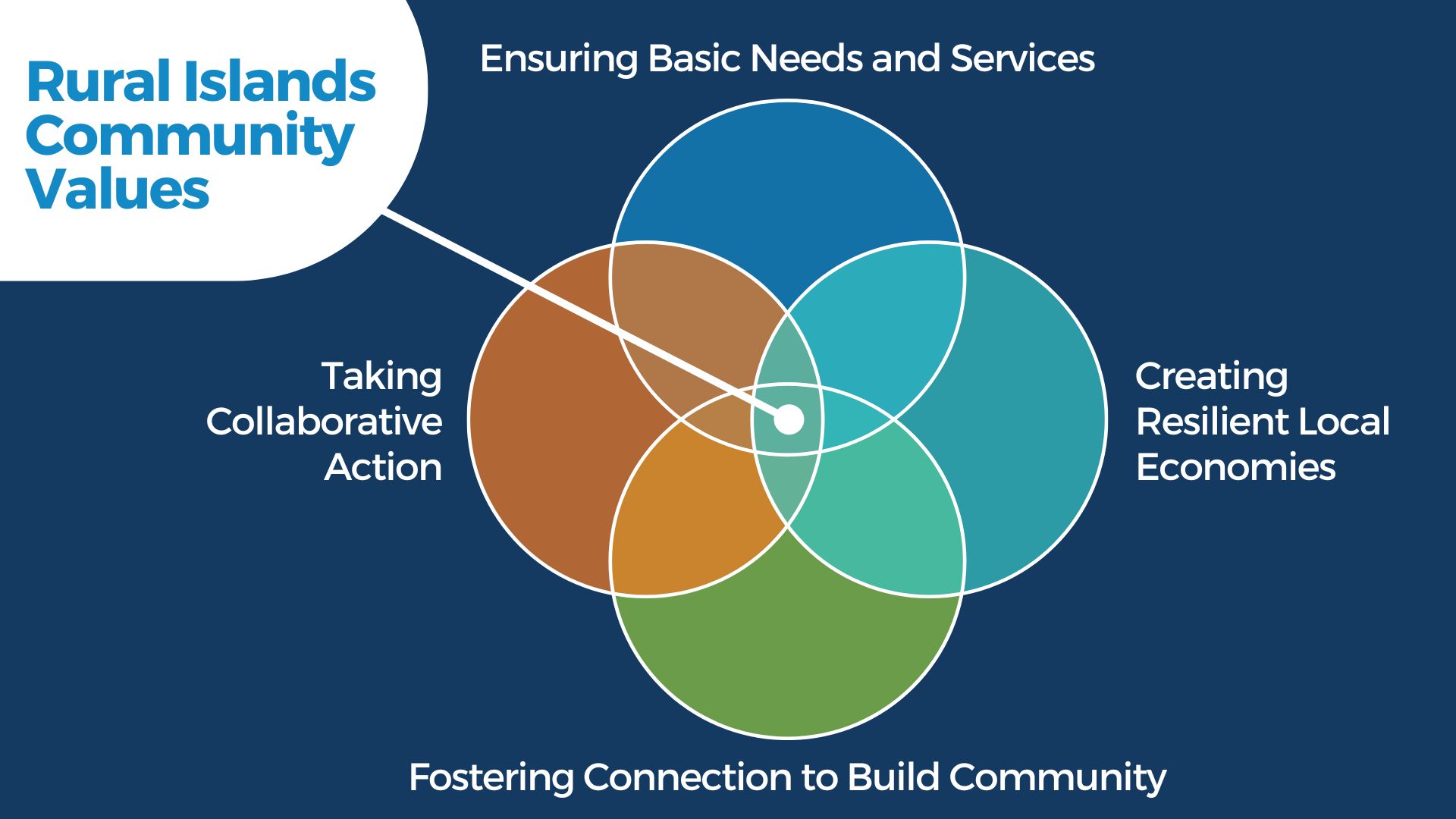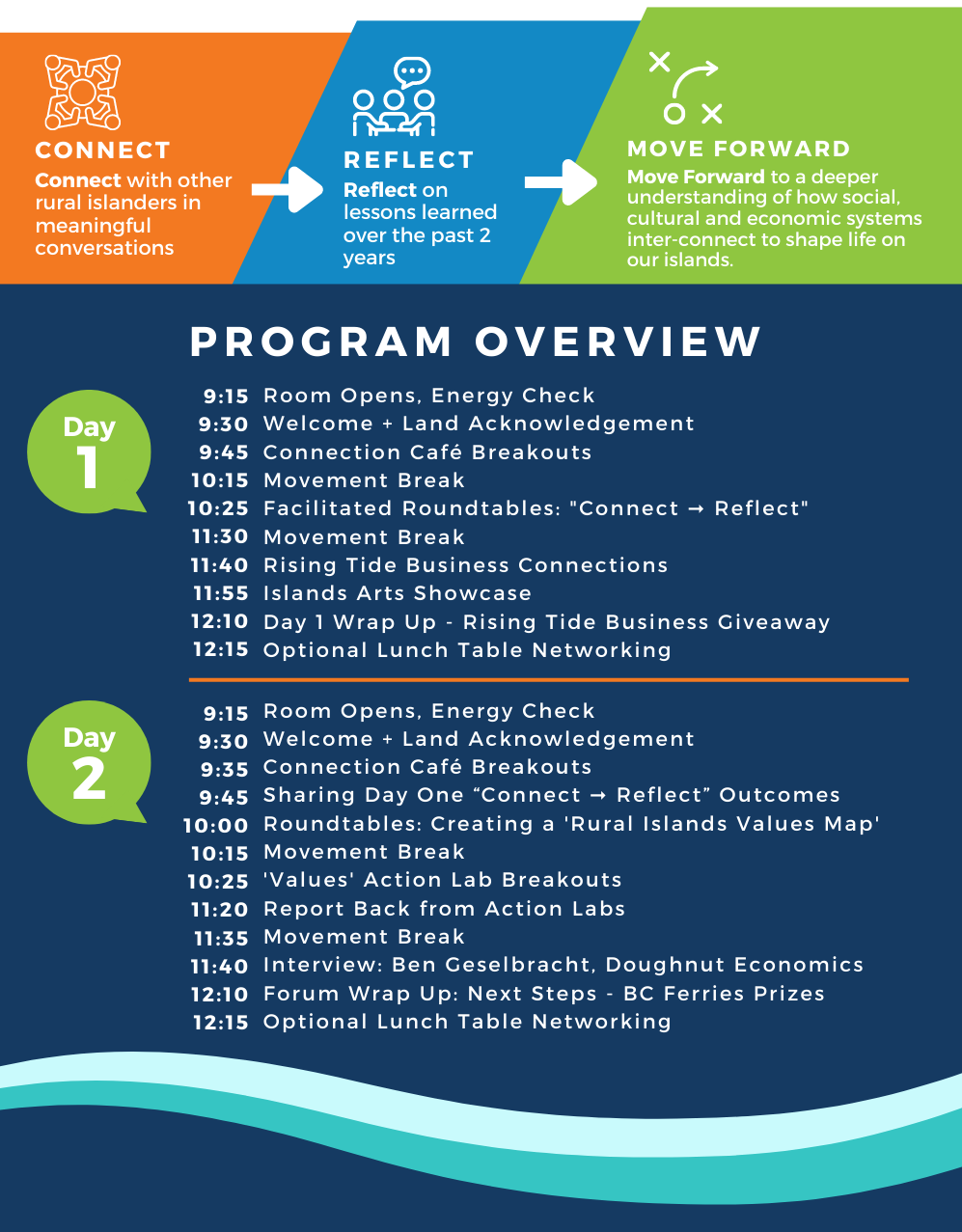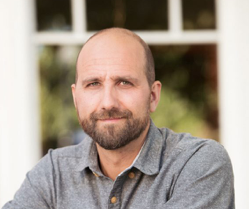 KEYNOTE INTERVIEW:
Ben Geselbracht, Nanaimo City Councillor
"Reimagine Nanaimo Adopts Doughnut Economics"
Ben Geselbracht, Nanaimo City Councillor, co-led the effort that resulted in the Nanaimo City Council officially adopting Doughnut Economics as a tool for reimagining the future of the city. Nanaimo is the first Canadian city to adopt doughnut economics as a vision and decision-making framework.
We are excited to bring Ben's experience to the Forum. He will speak to the City Council's motivation to engage with and adapt the Doughnut model. And
how this model can support communities at all levels to be more effective in realizing a local resilient economy that is environmentally sustainable and meets the needs of all community members. 
 Click here:
For more info about doughnut economics
Top 5 Reasons to Attend RIEP Forum 2022
1. CONNECT - Reconnect and Make New Connections. Get to know the faces and hear the experiences of other BC rural islanders like you, from North to South, Malcolm to Mayne - people who want to live well and keep our islands resilient and vibrant. 
2. REFLECT - Join with other rural islanders as we share our common stories via Roundtables and Spotlights. Explore the known and unknown. When we make time to reflect upon shared experiences, it's easier to chart a path forward.
3. LEARN - Our facilitator team will bring together sharings from Day 1, and translate them into a first-ever Rural Island Values Map that can be a guide for collaborative initiatives and action.
4. COLLABORATE - Hear about RIEP's approach to collaboration and advocacy, and how the Doughnut Economics framework can be a tool for sustainable community economic development. Enjoy our artist showcase and the Rising Tide spotlight!
5. MOVE FORWARD - Jump into our mini-action labs - identify and brainstorm opportunities specific to your business/organization/community. We'll apply a RIEP collaborative lens to opportunities that participants identify, share resources and perspectives, and brainstorm potential actions.
Feedback from RIEP Forum 2021
"Love the variety of islands present! Informative and FUN!" - Mairead, Saturna Island
"Thanks everyone. This was really nicely done.  I appreciated the level of organization and the opportunity to break out into small groups. Thank you for hosting Mitch and Kya. Thanks to all of the directors too! Great format!!" - Dre, Quadra Island
"Thank you all for  compelling event" - Lorne, Gabriola Island
"Very inspiring individuals and the format was supportive I typed a list of links that's what I have to take away (in addition to the buzz)." - Susan, Bowen Island
"Very well done! Almost as good as live AND I didn't have to take three to four ferries to get to it." - Manda, Cortes Island 
"Thank you everyone! Great event :)" - Amber, Saturna Island
With Gratitude To Our RIEP Forum Supporters
++++++++++++++++++++++++++++++++++++++++++++++++++++++