The Rural Islands Economic Partnership (RIEP) is a grassroots organization born out of the first Rural Islands Economic Forum, held in 2019.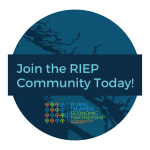 RIEP was officially incorporated as a registered BC Society on January 30, 2020, and early on became a means for cultivating enduring rural island-wide economic partnerships, in collaboration with Indigenous communities, to ensure economic resilience and generate long-term prosperity without depleting natural or social resources.
Previously, there was no formal channel for rural island community voices to unite for information, communications, planning, and advocacy. Today, RIEP is the recognized vehicle for supporting regenerative rural island economies, and for facilitating connections with island settler and Indigenous communities across the Province towards effective economic action.
2023-24 Board of Directors
Our Mission
The Rural Islands Economic Partnership Society leads, inspires, and cultivates sustainable economic resilience and community well-being through collaborative initiatives and partnerships for the benefit of British Columbia's rural islands and the Indigenous Communities who have traditional or reserve lands on these islands.
Vision
A thriving alliance of diverse rural island communities sustained through a united voice; shared values; social, economic and cultural well-being; environmental stewardship; and collaborative strength.
br> br>
Values
We practice excellence in leadership and environmental stewardship.

We walk our talk—accountable, trustworthy and transparent.

We are inclusive, respectful and collaborative.

We are tenacious and proactive.

We are open-minded, innovative & creative.