Connection Café – Building Resilience Together – 6-8 PM
Join fellow rural islanders and coastal residents as we mobilize to find solutions for today's critical community challenges.
Tues Nov 14 • 6 - 8 PM • Zoom • FREE
[THIS EVENT IS NOW OVER - Registration is closed.]
Members of the RIEP community, alongside our 2023 Resolution Working Group participants, will engage in lively discussions focused on the resources and support needed to build rural island community resilience on critical issues affecting all British Columbians.
You're invited to connect with current Working Groups: Climate Adaptation, Housing Now, and Economic Strength, to learn about their progress... and to join in on the conversations. You can also help form two new Working Groups - Food Security & Travel as a Force for Good.
Climate Adaptation
Economic Strength
Food Security
Housing Now
Travel as a Force for Good
As with many RIEP initiatives, this Connection Café is about action - finding ways to leverage individual successes and address common challenges, all with the intent of making commitments to realize islands values together.
The idea that one person can make a difference in this world is embodied by RIEP, our programs, and our Resolutions Working Groups. You too can be part of the change you want to see in the world, simply by showing up!
Join us for the Connection Café, November 14, 6-8 PM.
Learn and engage with RIEP'S Resolution Working Groups, and make a difference through your passion, your presence, and your voice.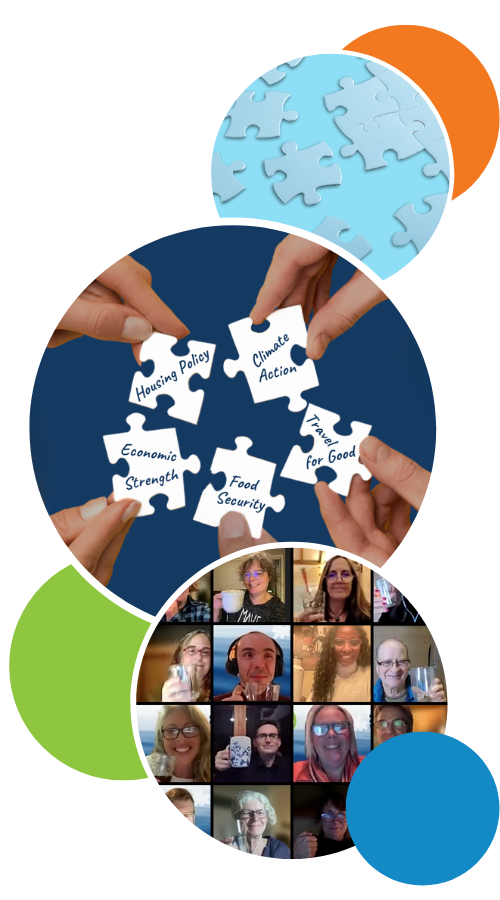 What Café Participants Are Saying...
"Very well done! Almost as good as live AND I didn't have to take three to four ferries to attend."
"This has been the best zoom experience I've had since I started doing online meetings."
"Loved the opportunity to communicate virtually with people in small groups."