Success Through Partnership
Island COMEBACK Marketplace, 2020 - 2023
Island COMEBACK served an important response and recovery need.
For more about the Island COMEBACK story, refer to these publications: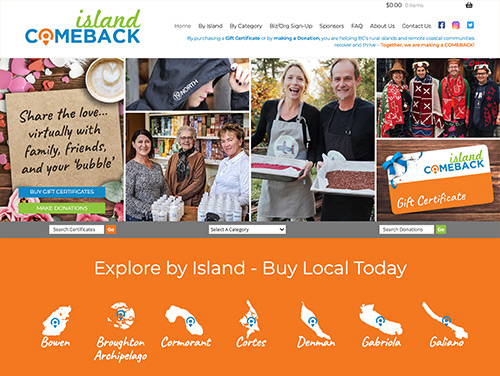 NOW, Rising Tide Business Services established in July 2021, is building upon the services initiated by Island COMEBACK  to further address the unique needs of Island and Coastal businesses and nonprofits. Rising Tide provides cost effective marketing services to help island businesses to improve their online presence,  discover new markets for their businesses, and engage existing customers with affordable and easy solutions for growing their business or organization.
What WAS Island COMEBACK Marketplace?
RIEP' Island COMEBACK initiative harnessed the power of regional collective action to mutually benefit local island economies.
In response to the dramatic economic impact of Covid-19, RIEP acted quickly to organize a grassroots economic recovery campaign.
Beginning in May 2020, visitors to www.islandcomeback.ca  were able to purchase gift certificates or donate to over 160 participating businesses and non-profits spanning 18+ rural islands.
The pandemic brought forth a new era for online commerce. In fact, through Island COMEBACK platform, many island businesses and organizations were motivated to conduct their business online for the first time!