2022 Forum Recap  |  2022 Program  |  2022 Facilitators & Keynote  |  Top 5 Reasons to Attend 
RIEP CELEBRATES A SUCCESSFUL 2022 FORUM
A Hearty Thanks To All Who Attended!
CONNECTING – REFLECTING – MOVING FORWARD
Continuing To Build Momentum For Keeping The Islands Vibe Alive
With Islanders and Supporters From Across BC:
WE CONNECTED: via Connection Café break-out rooms with other islanders and supporters to meet, talk, laugh and to learn more about each other.
"It was very engaging.  From the smaller breakout group with 3-4 to larger groups,
felt engaged and felt facilitators were welcoming and inviting to dialogue."
WE REFLECTED: In facilitated Round Tables of 10 -15 people, guided by skilled facilitators to share stories, thoughts and feelings on a series of reflective questions about life and living on the Islands: past - present - future, ie.:
What have we learned from the pandemic?
What are the important challenges facing rural islanders today?
How is island life changing?
"It definitely help build relationships and deepened understanding of why the islands need to
align/communicate to have a voice in the province & world and also share knowledge of 'things that work'  or 'are working'."
WE'RE MOVING FORWARD ... TOGETHER:
1. Built A Values Framework
The Facilitation Team distilled outcomes from the Reflection Roundtables and drafted a Rural Islands "Values Framework" as a proposed guide to further values-based collaborations and actions all through a climate mitigation-adaption lens. Join us in April at the 2023 in-person Forum to bring these values to life!!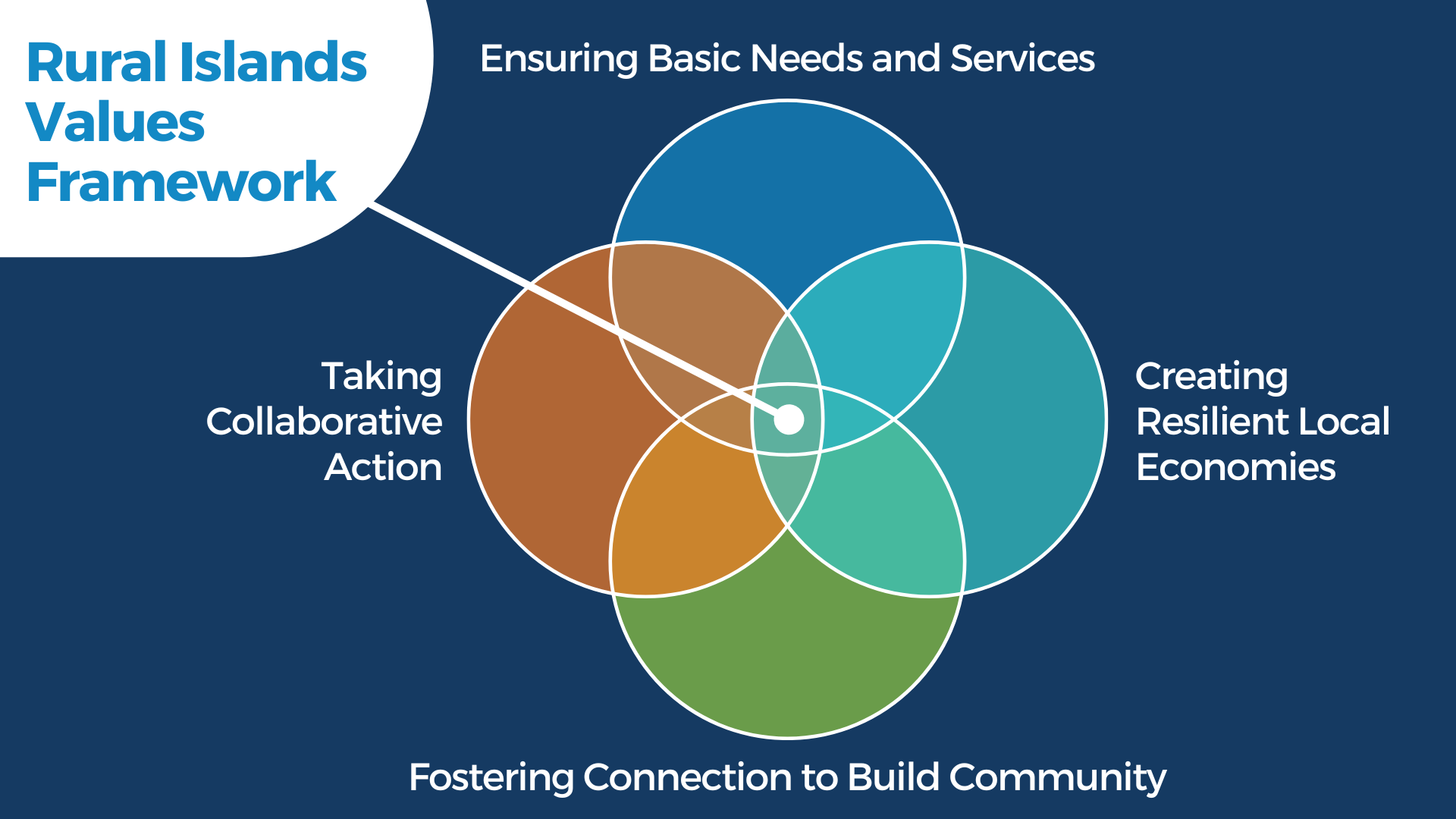 2. Values Action-Lab Breakouts
The Facilitator Team organized Four Mini-Action Lab Break-Outs where each Action Lab was based around one of the Values from the Values Framework. Participants engaged in dialogue exploring opportunities, as well as identifying the challenges facing rural islands communities, brainstorming new approaches and potential collaborations.
Sample Action lab Process – Fostering Community Connection: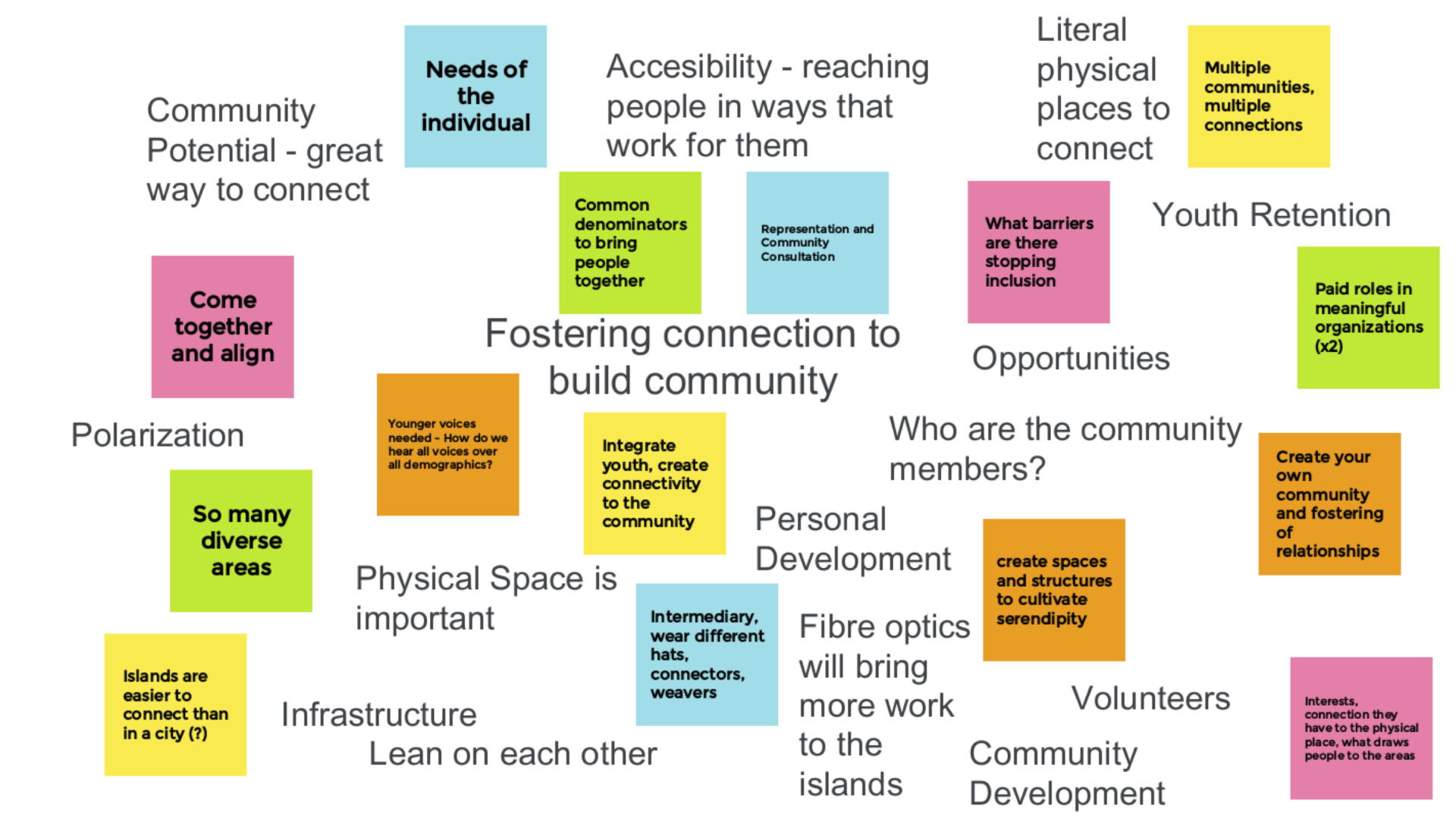 "RIEP is a great host, bringing together engaged islanders who want to share knowledge, resources, and ideas
to meet the islands' common and unique challenges. RIEP staff are skilled at guiding meaningful conversations
and distilling the information that emerges into a framework for planning."
3. Doughnut Economics: A Model For Cohesive Vision & A Unifying Framework
Ben Geselbracht, City of Nanaimo Councillor, presented an inspirational overview of the Doughnut Economics Model: A framework for communities to achieve a balance between the needs of people, while also protecting the Earth's life supporting systems. He noted that by acting locally and thinking globally, Nanaimo was able to become the first Canadian city to adopt the 'doughnut' as a guide for evidenced-based decision-making and sustainable action.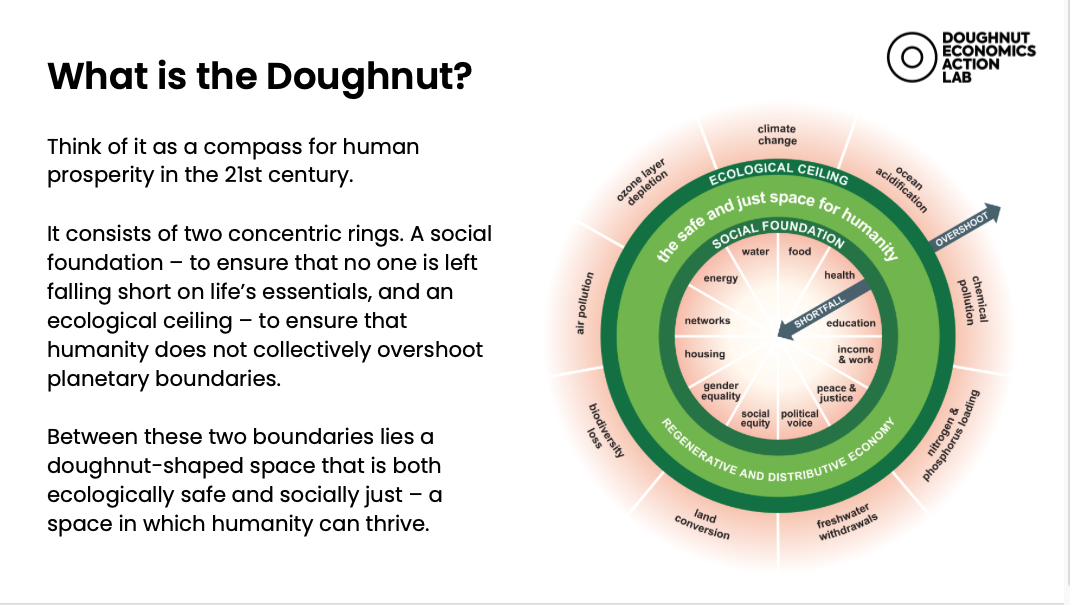 To Learn More about Doughnut Economics—Click on this link: A healthy economy should be designed to thrive, not grow | Kate Raworth
4. Moving to 'ACT'- TOGETHER!
RIEP Forum 2023 • April 25-27, Gabriola Island, Haven Centre
RIEP is bringing forward the Doughnut Economics Action Lab Model as a means for applying the proposed Islands Values Framework: A guide for achieving socio-economic resiliency across BC's rural islands.
The intention is to integrate the Doughnut's circular ring that represents ecological values with the Values Framework identified during the Forum, and bringing this new model forward as a catalyst for our emerging RIEP Action Network, and RIEP Forum 2023: Connect + Reflect + ACT!
Please Mark Your Calendars Now For These Upcoming Events!
RIEP Forum 2022 - Resources & Links
Feedback from RIEP Forum 2022
(Anonymous Survey Responses)
"Lots of good opportunities for connection, good presentations"
"I wasn't sure what to expect with this zoom and honestly thought it would not be of that much interest to me, but it gave me a window into what RIEP is and why it is needed. It was really neat to talk to different people from other islands and feel understood.  It is great to hear about what other communities are doing for ideas for our island."
"I was able to share my ideas and met new people."
"It was insightful."
"I made a couple of new contacts and learned about some projects/activities happening that I did not know about."
"This was a great opportunity to network and get up to speed on what's happening in our rural remote island communities"
"It was the best yet. I found the tone and tempo good, music in the downtime enjoyable."
"I loved how many diverse voices and perspectives were at the Forum and I learned a ton by listening!"
"It was a very engaging experience and the format was conducive to connecting. Regrettably, I only attended one of the sessions, but I was energized by the experience."
"Had a good conversation in the break out rooms, learned things I didn't know about, wish it was in person."
"It was good couple of half days connecting."
"A great group that was very engaged with helping their own islands within the scope and understanding of working together for the greater good."
"Great opportunity to connect on issues of the day."
"As a great way to connect with other people who understand the struggles as an island business/ person and share same values that you would have but also offer fresh eyes to the situation because from another island. Great way to connect!!!"
"A friendly, caring and creative community, interest in the wellbeing of our rural islands"
"Insightful."
"An opportunity to meet other islanders who experienced many of the same things but may have had different ways of dealing with issues and different solutions to common problems/experiences."
"A great opportunity to connect and build collaborative relationships with folks living and working on island communities to build capacity overall."
"Interesting exploration of people and businesses across the GIs."
"An incredible way to feel a part of a larger effort to engage rural islanders and better understand opportunities and challenges directly from people who live there."
"Informative connection with smart people living on rural islands like us!"
With Gratitude To Our RIEP Forum Supporters